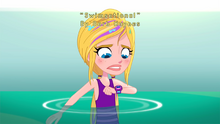 Ever wonder why the world is round? Well, I do!!!
Hi!!! My name is Hail and I love editing any type of Wiki. Make sure to stay tuned in with my blogs and have fun!!!
My favorite pages
Those are my favorite pages on this Wikia.

My favorite color is green and I have blue hair with yellow streaks. I don't like people cheating or copying me because it is disrespectful in my opinion.